Pogo pin connector advantages and disadvantages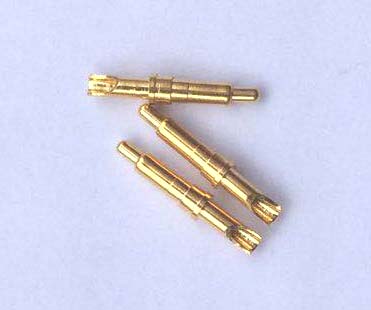 Pogo pin connector advantages and disadvantages
Pogo pin connector
is also called probe connector, it has the characteristics of small size, light weight, low cost.In mobile phones, communications, automotive, medical, aerospace and other electronic products in the precision connector is widely used, plays the role of connection.
First, the advantages of the Pogopin connector:
1. The greater the compression, the spring pressure will not change very much.
2. Small size, not only saves space, but also more accurate and stable contact operation.
3. Long service life.
4. Stylish appearance, thick material, very suitable for high-end electronic products.
5. Fast production speed and low cost, no need to open the mold.
Secondly, the disadvantages of pogopin connector:
1. The accuracy of pogopin connectors is very high, and the failure rate of production is very high.
2. The contact point of the Pogopin connector will not move when compressed. When there are other foreign objects or dirt in the contact area, the connection failure may occur.
Then, when using the Pogopin connector should note:
1. Prevent pressure from the side and on other non-vertical Pogopin connectors.
2. Battery contacts or the matching FPC goldfinger should not be dirty or oxidized.
3. If the pressure is too small and the positive force is insufficient, it will cause impedance instability;But too much pressure will hit the nozzle, resulting in the phenomenon of pin.
4. In the assembly process, attention should be paid to prevent pipe mouth injury, resulting in clamp pin.
5. Plastic barrier to prevent contact assembly and use of head and nozzle.
Compared to the advantages, the disadvantages of the Pogopin connector are very small and can be solved by paying attention to the manufacturing process.
If you want to know more details about pogo pin.
Please contact Cnomax Pogo Pin Factory
Our sales: Pogo Pin,Spring Loaded Pin,Pogo pin connector,Connectors PIN,magnet charging connector, wire connector,precision automatic lathe parts,military special connector,lead-free halogen-free precision connectors and other electronic product parts.

Cnomax Pogo pin factory
Contact: Jerry
Skype: jerry_shi2010
Phone: +86-13652508770
E-mail: [email protected]
Address: ChanFu Dong Road,XiaoBian Village, ChangAn Town,DongGuan City,GuangDong,China
Official website: www.pogopinconnector.com