Pogo Pin spring needle four structures and six types of advantages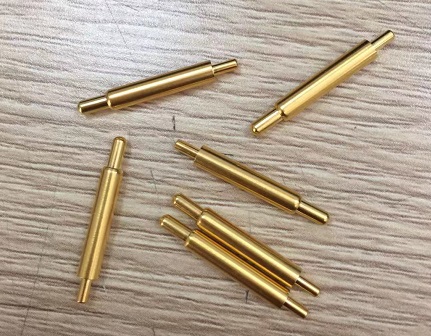 Today, Pogo PIN spring needles are widely used in various electronic devices. Usually, the surface of the spring pin is gold-plated, which can more effectively improve the corrosion resistance, mechanical properties, electrical properties and other properties of pogo PIN spring needles.According to the use of different methods, need to choose the design of the structure type to reasonable application.The following is to share the advantages of the four structures and six types of pogo pin spring needle.
First, pogo PIN spring needle design four advantages of the structure:
1, inclined plane structure: small and stable resistance, can ensure the needle shaft and tube wall close contact, so as to reduce the instantaneous power failure probability.
2, inclined plane with ball structure: through the current is large, small contact impedance, stable performance.
3, double contact structure: spring can be directly set on the pin shaft cone tail needle, let the pin shaft vertical force, so the shaft of the skid degree will be relatively small.
4, anti-drilling structure: for small size connectors is a good choice, in small size can achieve customer resilience requirements.
Second, pogo PIN spring needle design six types of advantages:
1, flat bottom type: good stability, the bottom of the needle tube is flat bottom design, conducive to welding and PCB board.
2. Insert plate: The end of the needle tube of the probe connector is equipped with a positioning needle to ensure that there will be no deviation in the welding process, and it has excellent positioning effect.
3, bending: in the tail of the bending design, to provide designers with more choices in the use of space.
4, double head type: the application of double head double action design, so that engineers in the board to board two-way connection has more space flexibility.
5, welding line type: suitable for application in Cable end, is conducive to welding and line.
6, thread type: special specifications of products to meet the different needs of customers, can also be customized according to customer needs.
If you want to know more details about pogo pin.
Please contact Cnomax Pogo Pin Factory
Our sales: Pogo Pin,Spring Loaded Pin,Pogo pin connector,Connectors PIN,magnet charging connector, wire connector,precision automatic lathe parts,military special connector,lead-free halogen-free precision connectors and other electronic product parts.

Cnomax Pogo pin factory
Contact: Jerry
Skype: jerry_shi2010
Phone: +86-13652508770
E-mail: [email protected]
Address: ChanFu Dong Road,XiaoBian Village, ChangAn Town,DongGuan City,GuangDong,China
Official website: www.pogopinconnector.com